Logistics in a World of 3D Printing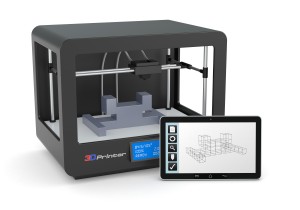 It wasn't too long ago that 3D printing was limited to science-fiction novels or incredibly expensive government and corporate prototypes. However, major advances over the past few years have made additive manufacturing, or "3D printing" as it is more commonly known, a very practical and increasingly cost-effective way to manufacture certain products. However, 3D printing technology is still very much in its infancy, and it is just now starting to become practical in specific industries.
How will the logistics industry will be affected by 3D printing?
One of the industries poised to be most affected by 3D printing is the logistics industry. After World War II, the global economy entered a period of time in which massive quantities of goods were produced in one country or region then shipped somewhere else on the planet far away from the product's origin. Early on, this meant that the United States was shipping their goods around the world. More recently, robust logistical routes allowed countries like China and India to manufacture goods that could then be shipped to wealthier countries where consumers could actually afford the products being made. This scenario helped raise previously impoverished nations out of poverty, and was a boon for the global logistics industry.
3D printing is poised to completely revolutionize this status quo.
The good news for logistics companies
Fortunately, it is not all bad news for the logistics industry. While it is true that the ability to inexpensively produce manufactured goods in the destination country will reduce the amount of international freight being shipped, logistics companies will also see substantially reduced overheads.
The increased ability to customize products and materials will dramatically reduce warehouse requirements across the industry. Because products can be made to order, there will be less need for stockpiles of inventory. At the same time, next-generation 3D printing devices will reduce, if not eliminate, the need for low-level assembly line workers. With less money tied up in warehoused inventory, reduced warehouse requirements and less expensive payrolls, logistics companies will become more flexible and streamlined.
How logistics companies can survive and thrive in the new environment
While it is true that localized manufacturing will reduce the need to ship finished products across the world, it is important to remember that products that are 3D printed still require raw materials to be produced. Shipment of raw materials is likely to be even more important than it is today. Not only will large companies require direct shipments of the raw materials, but every household with a 3D printer will require shipments as well. Residential delivery of raw materials could be a massive boom sector for the logistics industry.
In addition to residential delivery, logistics companies can transition into more of a full-service entity. Logistics companies can move away from the 3PL model, in which a particular logistics company is only directly involved in one specific part of the supply chain. Instead, logistics managers can adopt a 4PL strategy, in which they serve as a comprehensive solution from raw material sourcing to home delivery.
Many experts believe that 3D printing has the potential to completely change the way the world economy works, and to dramatically increase the living standards of individuals across the globe. Inevitably, there will be some painful transition periods and rough patches, particularly for companies so integrated with the current economic order. However, with the proper foresight, logistics companies can adjust their business models to become even more important than they are today.
Sources:
http://www.manufacturing.net/blogs/2013/10/why-3d-printing-could-be-a-manufacturing-and-logistics-game-changer
http://cerasis.com/2014/02/10/3d-printing-supply-chain/
http://www.supplychain247.com/article/the_implications_of_3d_printing_for_the_global_logistics_industry/manufacturing
http://www.inddist.com/blogs/2014/02/why-3d-printing-could-be-manufacturing-and-logistics-game-changer