Implementing a successful Omni-channel distribution strategy requires incredible co-ordination between marketing, information technology, shipping, warehousing, transportation, logistics, suppliers, manufacturers, operations and merchandising — in other words, everyone who even thinks about buying, selling or delivering the product is directly involved in developing the strategy.
It requires careful planning, new business processes, dynamic re-configuration and coordination among all stakeholders. Today's tech-savvy customer may want to order online for pick up in their local store, have it shipped directly to them from a click to buy button or place their order over the phone for same-day delivery.
Everyone involved in the back-end of the process needs to be on the same page when the buyer finally makes their decision to "push the button."
Delivering an Extraordinary Customer Experience
The goal is to deliver an extraordinary customer experience across every single touch point. It is all too common to see a customer standing in a brick-and-mortar store talking on a cell phone to a friend, while looking up the product on their laptop.
Millennials and Generation Z buyers think nothing of showrooming. They grew up with it. They want what they want in the right size and color available now, and it needs to be less expensive than everything else they looked at. So, what is the big deal?
Oh, and by the way, if you do not have it, they will go to Amazon.com and have it delivered tomorrow – free. If the customer wants it tomorrow and they are across the country, regional warehouses need product on the shelf waiting for delivery to the retailer or the consumer directly.
The Omni-Channel Phenomenon — Channels Are Blurring
What seems like a simple and obvious buying experience to the consumer requires incredible coordination behind the scenes. All the people and systems behind the scenes, are ready to move when the buyer "clicks to buy" or takes the product off the shelf.
Instantaneous, real-time data goes from the point of purchase to all interested parties in the transaction. Delivering this instant gratification requires tremendous investment in integrated systems and coordination between all internal departments and external stakeholders.
Process Mapping With Everyone at the Table is More Important Than Ever
Practical Suggestions
Engage all stake-holders and initiate focus groups to understand both consumer behavior and internal stakeholders — avoid conflicting metrics and channel conflict at all costs.
Play out all the "what if's" and known possibilities surrounding multiple buying scenarios.
Develop flexible forecasting models based both on past data and future demand.
Create dynamic work flows and process flows for each type of buying behavior to anticipate where the physical product needs to be and when it needs to be there.
Investigate multiple delivery methods – Amazon is experimenting with drones.
Evaluate existing systems and look for ways to streamline multi-directional delivery of data and product.
Evaluate packaging and shipping methods for maximum efficiency, durability and safely.
Consider sharing inventory across multiple stores and regional centers.
Shorten the space and time from receiving to shipping.
Dynamically reconfigure store and warehouse layouts to maximize floor space and minimize travel time.
Review picking and staging methods to support multiple points of delivery.
Constantly review EOQ's and JIT based on the realities of new buying behaviors.
Summary
Omni-channel distribution is no longer just about distribution. It is about the entire system working together in a seamless fashion to deliver the customer what they want, where they want it, when they want it for less than every other alternative they evaluated.
It is all about who can move transactional data and physical product most efficiently and economically. This requires real time data movement and physical product handling strategies all working together as one seamless system.
---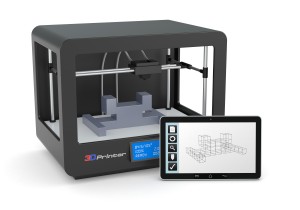 It wasn't too long ago that 3D printing was limited to science-fiction novels or incredibly expensive government and corporate prototypes. However, major advances over the past few years have made additive manufacturing, or "3D printing" as it is more commonly known, a very practical and increasingly cost-effective way to manufacture certain products. However, 3D printing technology is still very much in its infancy, and it is just now starting to become practical in specific industries.
How will the logistics industry will be affected by 3D printing?
One of the industries poised to be most affected by 3D printing is the logistics industry. After World War II, the global economy entered a period of time in which massive quantities of goods were produced in one country or region then shipped somewhere else on the planet far away from the product's origin. Early on, this meant that the United States was shipping their goods around the world. More recently, robust logistical routes allowed countries like China and India to manufacture goods that could then be shipped to wealthier countries where consumers could actually afford the products being made. This scenario helped raise previously impoverished nations out of poverty, and was a boon for the global logistics industry.
3D printing is poised to completely revolutionize this status quo.
The good news for logistics companies
Fortunately, it is not all bad news for the logistics industry. While it is true that the ability to inexpensively produce manufactured goods in the destination country will reduce the amount of international freight being shipped, logistics companies will also see substantially reduced overheads.
The increased ability to customize products and materials will dramatically reduce warehouse requirements across the industry. Because products can be made to order, there will be less need for stockpiles of inventory. At the same time, next-generation 3D printing devices will reduce, if not eliminate, the need for low-level assembly line workers. With less money tied up in warehoused inventory, reduced warehouse requirements and less expensive payrolls, logistics companies will become more flexible and streamlined.
How logistics companies can survive and thrive in the new environment
While it is true that localized manufacturing will reduce the need to ship finished products across the world, it is important to remember that products that are 3D printed still require raw materials to be produced. Shipment of raw materials is likely to be even more important than it is today. Not only will large companies require direct shipments of the raw materials, but every household with a 3D printer will require shipments as well. Residential delivery of raw materials could be a massive boom sector for the logistics industry.
In addition to residential delivery, logistics companies can transition into more of a full-service entity. Logistics companies can move away from the 3PL model, in which a particular logistics company is only directly involved in one specific part of the supply chain. Instead, logistics managers can adopt a 4PL strategy, in which they serve as a comprehensive solution from raw material sourcing to home delivery.
Many experts believe that 3D printing has the potential to completely change the way the world economy works, and to dramatically increase the living standards of individuals across the globe. Inevitably, there will be some painful transition periods and rough patches, particularly for companies so integrated with the current economic order. However, with the proper foresight, logistics companies can adjust their business models to become even more important than they are today.
Sources:
http://www.manufacturing.net/blogs/2013/10/why-3d-printing-could-be-a-manufacturing-and-logistics-game-changer
http://cerasis.com/2014/02/10/3d-printing-supply-chain/
http://www.supplychain247.com/article/the_implications_of_3d_printing_for_the_global_logistics_industry/manufacturing
http://www.inddist.com/blogs/2014/02/why-3d-printing-could-be-manufacturing-and-logistics-game-changer
---