Employees work to better your company through increased production, safety awareness and fast implementation of changes when they feel secure.
Security does not center solely on monetary gains. Workers who feel their supervisors respect them and the job they do have higher production output, fewer sick days and genuine pride in their jobs.
A unique and profitable company culture grows from this respect and trust.
Disrespect vs. respect
The old-fashioned boss-employee relationship does not work in today's workplace. The attitude of "them against us" leads to:
High turnover
Increased theft
Loss of the company's vision
Negative media attention
Employees who find little respect at work, serve the same disrespect to managers, coworkers and the workplace.
In a poll, how would your employees rate management?
Employees for one major retail holding company gave their CEO a 19 percent approval rating in a national poll.
Most employees rate their employer somewhere between the bottom 20 percent and the top 10 percent with trust as the deciding factor.
At companies like Google and SAS, over 95 percent of the employees rate management as ethical, trustworthy and respectful.
Of course, not every company can afford cafeterias, an onsite Frisbee golf course and nap pods like the top two companies on Fortune's Top 100 Companies to Work for in 2014.
Trust: The foundation of a great company culture
Building trust in employees begins with hiring people with the right attitude and then developing their skills. Finding people who work well together and share a common goal comes before hiring the person who has all the technical skills.
Skill building will happen over the first few months of employment but an attitude rarely changes.
Hire people who will actively pursue the future success of the company and believe in the company's:
Of course, these key company elements hang throughout the building and everyone knows them by heart. But, what do employees do each day to expand and improve each element?
Problem solving and safety
Great working environments spring from workforces who share diverse perspectives on the same idea to reach a solution to problems. Employee input remains vital to warehousing success as they work with the people, equipment and processes every day.
Successful 3PL companies offer employees more than a job. Companies that provide educational opportunities and career path planning give employees reasons to improve.
An outstanding safety record makes any 3PL valuable to clients.
Warehouse safety-awareness programs that encourage employee ideas and implementation not only lower accident rates but also give workers incentive to identify potential hazards before an accident happens.
Appreciation
Incentives for safety awareness can include:
Employee of the Month recognition
A parking spot
A gift card to a local store
Employee appreciation does not always mean a pay raise or paid time off. Long-time team members who go beyond their job with perfect attendance and above standard job performance deserve gratitude.
Awarding these outstanding achievements with a personalized parking space costs little and brings happiness every day. Who can resist smiling when pulling into a parking place with their name on it?
Lead with care
Supply your team with the tools they

need

to do their jobs effectively. Keep equipment in good working condition by having operators complete a checklist each day and ordering repairs when needed.
Keep your employees engaged in their jobs by offering variety where possible.
Listen to worker concerns and accommodate those who need personal time or schedule changes for family matters. Many companies offer flexible schedules, compressed workweeks and telecommuting, which allow employees to find a balance between work and family. Having no balance between family and work is the number one cause of stress in the workplace. Relieving that stress lifts a huge weight off the company shoulders.
Inform employees about current business trends, financial insecurities, and coming benchmarks. Never lie or deceive employees about possible cuts in personnel or pay.
Let everyone speak and validate each contribution with positive feedback.
A great work culture grows from individuals learning to interact and work together for the good of your company. Prove your trustworthiness through ethical practices and treat your employees with respect.
---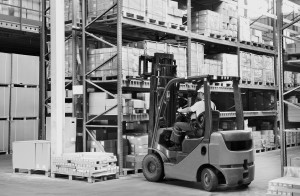 According to Safety.BLR.com, every year, thousands of workers are seriously injured in forklift accidents, and about 100 workers die as a result of these accidents. Since forklifts may travel as fast as 10mph and weigh over 3 tons, they can become a great danger if not operated safely. Companies must implement the following forklift operation safety tips to prevent accidents, injuries and fatalities.
General Forklift Precautions and Tips
Certain general forklift precautions and tips must be followed to ensure safe operation. Before every shift, examine the forklift to ensure no repairs are needed. If the forklift requires repairs or maintenance, do not operate it. At work sites or in a warehouse, follow designated roadways. ComplianceandSafety.com also notes that operating forklifts should never be left unattended. This is not only a safety hazard, but leaving keys in an unattended forklift is also illegal. Other general forklift precautions include refueling forklifts in well-ventilated areas, applying the parking brake when parking a forklift and understanding and sticking to the forklift's lifting capacity.
Safety Tips for Forklift Operation

To operate a forklift safely, operators are required to go through a forklift safety training and certification course. According to OSHA, forklift training should include formal instruction, practical training and an evaluation of the trainee's performance. Topics that should be covered in an OSHA approved training program include:
–          Operating instructions and precautions
–          Instrumentation and controls
–          Maneuvering and steering
–          Vehicle capacity and stability
–          Motor or engine operation
–          Maintenance and routine inspections
–          Operating limitations
–          Charging/recharging batteries and refueling
When operating a forklift, be attentive and alert, observing the surrounding environment. Avoid hazards, use a voice or horn to alert others in the area, avoid loading or unloading on ramps and be aware of changes to the operating environment.
Wear the seatbelt at all times. Many forklift accidents involve the forklift tipping over, and wearing the seatbelt helps to prevent crushing or being thrown off. Ensuring that the body is fully inside the frame is important, as is wearing the appropriate clothing, which includes a hard hat, hi-visibility jacket, tight clothing that will not be caught in the controls or gears, and sturdy footwear.
Tips for Carrying Loads Safely
Failing to carry loads safely with a forklift may result in an accident. Pay attention to load logistics, placing loads near the mast instead of near the front. Never load a forklift beyond the load capacity. When carrying a load, avoid instability problems by carrying them as low as possible. Strapping loads, or ensuring they are stable, helps avoid stability problems as well. For loads that obstruct the view of the operator, the forklift should be operated in reverse to improve visibility.
Essential Guidelines to Keep Others in the Area Safe
Unfortunately, forklifts may become a safety hazard to others in the area if operators fail to pay attention to their surroundings. Carefully look for other people when operating a forklift and avoid making fast moves, which could unseat the load and make it crash down on someone. Before backing up, check carefully to ensure that no one is behind you. Never allow anyone to walk under the forks or stand on the forks.
Forklifts perform an essential job at warehouses and construction sites, but they can be a hazard if not operated correctly. Workplace conditions, depending on the type of workplace, may make using a forklift even more dangerous. While proper training and following forklift requirements ensures that your company fulfills the legal requirements for forklift operation, following forklift operation safety tips also helps prevent workplace injuries and product damage.
Sources:
December 2009,  "Forklift Safety Tips"  http://safety.blr.com/workplace-safety-news/equipment-and-process-safety/forklift-safety/Forklift-Safety-Tips/
"Forklift Safety Tips: A Comprehensive Resource"  http://www.complianceandsafety.com/safety-tips/forklift-safety-tips.php
"Occupational Safety & Health Administration: Powered Industrial Trucks" https://www.osha.gov/pls/oshaweb/owadisp.show_document?p_table=STANDARDS&p_id=9828#1910.178%28l%29
December 2009,  "Forklift Safety Tips"  http://safety.blr.com/workplace-safety-news/equipment-and-process-safety/forklift-safety/Forklift-Safety-Tips/
"Top Forklift Operator Safety Tips"  https://www.forkliftacademy.com/top-forklift-operator-safety-tips/
" Safety and Healthy Topics: Powered Industrial Trucks – Forklifts"  https://www.osha.gov/SLTC/poweredindustrialtrucks/index.html
---
Supply chain managers looking to implement warehouses locally or globally need to carefully consider the conditions of the working environment. Conditions which promote safety will aid in achieving the highest productivity and efficiency of processes possible. A critical factor at play is promoting a healthy work environment with plenty of room for employees to work to their fullest potential as well as increasing employee satisfaction.
Setting a Standard for Safety
Planning for future growth, which could require more employees to work within a facility or implementing additional facilities, should be considered. However, a set safety standard that encourages employees to take safety into their own hands through rewards can keep the number of additional employees needed to a minimum. This is because safe and satisfied employees are more productive, more efficient and ultimately more likely to stay with the company. Employees who stay with the company relieve supply chain managers of the responsibility of training new employees. With skill and practice comes efficiency.
Employee Satisfaction and Comfort
For the greatest efficiency and highest productivity, according to the National Institute of Building Sciences, it's crucial that warehouses be designed for comfort to increase employee satisfaction. Employees who have enough space to work in will feel less crowded, which increases productivity. Planning ahead is important to ensure that company growth and increase in product demand does not result in the number of employees exceeding the space available to them. Employees who are more comfortable in general, satisfied with their working conditions, and who have plenty of space to move about in are more likely to smoothly handle an increase in product production if need be.
Planning for Future Growth
The University of Pretoria's report, Faculty Design: Achieving Overall Efficiency in the Warehouse Environment, explains that designing facilities requires a strategic plan focusing on global implications for potential growth. With a set standard throughout all company facilities, current and future, basic warehouse functions (pg 8) can be considered and a facility's life cycle can be efficiently implemented for optimum safety.
Case Study: Apple
University of Pretoria's report cites Apple as a case study when discussing the most efficient layout of a warehouse, which can be viewed in full on page 11. It is important to note that collecting data concerning the needs and status of the warehouse environment is the first step Apple takes. It then designs and plans for the productive processes and flow of materials through the warehouse. It ultimately ends with implementing the layout, though there are several standardized steps to be carefully considered in between the data collection and implementation phases.
Case Study: Office Depot
Office Depot puts the personal responsibility for workplace safety into the hands of its employees, by motivating them and improving their morale. It implemented a single automated safety program for all sites, so that standards were the same throughout the company. Employees who completed their work safely were rewarded, leaving them happier through autonomy and personal responsibility. This also saved supervisors time and the company money.
What should supply chain managers consider when implementing a set standard to optimize productivity and efficiency?
· Employee safety, which relies on personal responsibility, depends much on the health of the employee.
· Employee health can be cultivated through addressing psychological needs of employees, not just through hand washing or providing sick days.
· Employees will be more productive if they are paid a proper wage. When paid below a living wage, they will become burnt out and work will become sloppy, resulting in errors that can cost not just company dollars but also lives.
· Employees who are satisfied and rewarded for their safety efforts will stay with the company longer, avoiding the learning curve of training new employees. This increases efficiency throughout warehouses.
Sources:
http://www.cashort.com/Libraries/Safety_Performance/Office_Depot_White_Paper.sflb.ashx
http://www.wbdg.org/design/warehouse.php
http://repository.up.ac.za/bitstream/handle/2263/16554/Serote_Facility(2010).pdf?sequence=1
---