Your warehousing practices can mean the difference between being productive versus using your labor for unnecessary tasks. If you're not utilizing the most current warehouse management system available to you, then you're just throwing your money away.
How Many Of These Outdated Warehousing Systems Are You Using?
Paper lists or paper forms of any kind for any reason
Manually writing down product locations or information
Any type of face to face communication
Manual batch processing
Anything else you're doing manually
Think back to the time when everything was done manually, by hand, using only paper and a pencil. That seems like it was ages ago. Now compare that to today's technology and how quickly you can send someone an email versus writing out a handwritten letter, addressing it, sealing it, putting a stamp on it, walking it to the mailbox and having it mailed out. Then you have to wait days until your receiver gets their letter.
You can make the same comparison when it comes to how you are running your business. Whenever you do something manually, it is the equivalent of handwriting a letter and sending it in the mail. It takes more time, there are more steps and quite a bit more effort involved. And the end result can't be achieved in real-time, which means, while you're waiting, you are losing money.
If you are still using outdated warehousing systems, don't you think it's time to upgrade to something that will make your staff and your business more efficient? It's time to stop using paper. Why write something down on a piece of paper and then have to process it again once it gets to the next step. Then you rinse and repeat that same time-wasting process for each step of the entire warehousing process until your product reaches its final destination.
All those manual steps intermingled with the face to face communications that are necessary when you are not using an updated warehousing system just lead to a greater potential for human error and a huge waste of precious time, money and valuable resources!
Why You Should Consider Moving Away From A Manual System?
Manual systems leave too much room for human error.
Manual systems take more time and will cost you more in labor and supplies.
Manual systems waste paper and valuable resources and are bad for the environment.
Manual systems will make your company look less professional versus a company who utilizes all the latest technology.
Manual systems make it hard to effectively multi-task all the functions within any given project.
The Take Away
Certainly everyone will agree that doing anything manually is not the best way to run a successful business. And it definitely won't allow your company any room for unlimited growth without having to hire a much larger staff to maintain that growth.
Moving away from doing anything manually and purchasing a more modern warehousing solution is the absolute best way to grow your ROI and make your business as efficient and productive as possible. If you are still using any types of manual systems in your business, you're losing money.

---
We would like to share an interesting blog post by Adam Bluemner, the Managing Editor for Find Accounting Software, a service providing free software selection assistance.
———————————————————————————————————————————————————————————-
Cycle counting is an improved approach for inventory stock verification. In brief, cycle counting provides a method of splitting the inventory verification task out over time in order to create greater process efficiency and inventory records accuracy. It has two fundamental characteristics:
1.       Stock verification happens continuously over the year, rather than all at once.
2.       High value inventory items get additional attention.
Key points:
Industry experts attribute bin location accuracy rates of 95% or even 99% and overall efficiency gains of 5-10% to the implementation of a cycle counting program.
Cycle counting puts attention where your investment is by using a group assignment model based on item "value." An item's value is determined not by unit supply cost or number of inventory turns, but rather by the combination of the two factors.
The advantages of cycle counting over end-of-the-year stock verification intensifies as your organization's investment in inventory increases.
Cycle counting doesn't require a major investment in equipment, outside services, or human resources.
You can find the rest of this interesting article here: Cycle Counting (Part 1): What Every Inventory Manager Should Know About It
---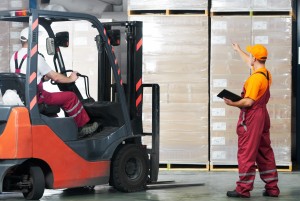 Proper use of warehouse space can expedite shipping, increase safety and alleviate headaches. Organizing and optimizing space can also save companies up to 15 percent, according to Logistics Management, so it's easy to see why it is important to make warehouse logistics a priority.
Increasing Shipping Speeds and Product Quality
Good optimization and organization can increase a business' shipping speeds while insuring that the product quality is ideal.
The key to increasing shipping speeds is making sure that the most frequently purchased products are in the most convenient locations in the warehouse. The most popular products often change by season, so it is important to keep track of sales data. Before making storage plans, logistics managers should examine at least one year's worth of sales figures. This will give a better overall idea of how products flow from the warehouse at certain times of the year.
Warehouses with diversified inventories can best manage a wide array of goods by using software that keeps track of SKUs, inventory, sales, projections and other important numbers. Many warehouse vendors provide this software as part of their storage package, and it is a popular choice for managing products.
As items are shipped to and from the warehouse, the product is scanned and the information is uploaded to the software, which is then accessible from an online dashboard. Implementing this software will help to optimize the placement of product throughout the warehouse.
Also, products that are best sellers should be left on pallets and not racked. This allows employees to quickly access the product and reduces wasted time racking items. This is especially true if the items are often purchased by the pallet or if the items are a part of cross-dock operations.
If products must be stored, consider using drive-in storage racks. Using this system can increase a warehouse's storage density by up to 75 percent, according to Material Handling Industry.
Here are a few more tips for increasing speed of shipping and reducing space constraints:
Products with a limited shelf life should be put on a rotating system using shelving designed for quick and easy access.
Newer products should be shelved behind older products so that older products are easily accessed and shipped first.
Increase the productive use of floor space by up to 60 percent by using double-deep pallet racks.
Safety
Choosing the best shelving for product storage is an important part of increasing warehouse safety. When purchasing shelving and storage, there are a few things to consider.
First, how much will need to be stored? Take into account the size, height and weight of pallet loads. All shelving or storage solutions should more than compensate for product load to decrease the chances of items falling.
Second, the storage solution should allow for optimum product accessibility. For example, if products will be pulled using a counterbalanced lift truck, the storage area should be roomy enough for the operator to navigate the arms of the lift. If the lift arms rub against the sides of the shelving, the shelves could tilt or be damaged and eventually tip over.
Third, business owners need to consider how their equipment will complement the storage system. For example, if the warehouse has counterbalanced lift trucks (the most common warehouse vehicle) for product transport, the shelving cannot be taller than the truck's 188-inch lift height.
By paying attention to how products are stored, a company can make large strides in customer satisfaction and ROI. Technology, types of storage systems and placement can all be used by businesses to achieve a much better warehouse system for their individual needs.
---